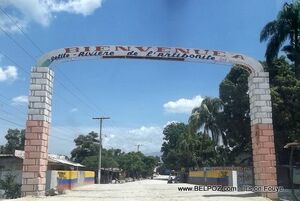 Petite Rivière de l'Artibonite is a small town in the Dessalines Arrondissement, in the Artibonite department of Haiti. It is located in the Artibonite Valley.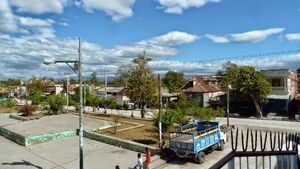 Little Artibonite River is a historic city where we find the Palace with 365 gates and the small fort of Crête à Pierrot that President Henri Christophe had built. It may be a small town but Petite Rivière de l'Artibonite has a great significance to Haiti. One of the important battles of the Haitian Revolution (1791–1804) was fought here at Crete Pierrot; Jean-Jacques Dessalines ravaged the French army led by Rochambeau.
History
[
]
The commune of Petite Rivière de l'Artibonite, located east of Saint-Marc, was founded in 1827. It is one of the oldest French colonies in the New World and is one of the first centers of opposition to the colonial order. Already on February 24, 1790, freedmen gathered there at the Ducasse de Plassac dwelling and were attacked by Borel. Wanting to clearly express its refusal to bow to French subjection, this locality, trained by native chiefs, passed under the Spanish flag in November 1793. Toussaint Louverture opened, in 1794, the gates of the village to the Spaniards, so the English of Saint-Marc went on the offensive in January 1795 to retake Petite Rivière.
To counter their advance, Toussaint Louverture installed in the village of Petite Rivière a battery of two pieces of cannon. The initiative paid off, as it forced the British commander Brisbane to retreat. In 1802, as Rochambeau's division approached, Toussaint gave Dessalines command of the Fort de la Crête-à-Pierrot. This fort was the scene of one of the most glorious battles of the War of Independence. A thousand soldiers of the native army underwent a twenty-day siege there against the expeditionary army of Leclerc.
• In 1802, Jean Jacques Dessalines led the forces of black people in a revolution against the French and defended the fort of Crete-a-Pierrot in this town. The French colonial army under the leadership of General Charles Leclerc tried to take over the fort but Dessalines' forces held on and defended it. When the Haitian revolutionaries ran out of food and ammunitions, they were forced to leave the fort and pass through the French defense en route to Cahos Mountains. The French side then managed to gain control over the fort but with heavy consequences as it lost a lot of its people. The fighting then led to a deciding battle, wherein the Haitian revolutionaries drove away the French forces who decided to retreat.
• In February 1803, after France withdrew its forces from the fort, Dessalines and Alexandre Petion, who was the leader of the mulattos, declared Haiti's independence in the town of Petite Rivière de l'Artibonite.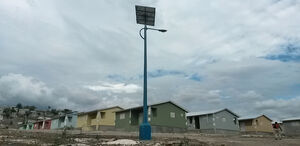 During the Haitian period, La Petite Rivière also had the opportunity to attend or participate in a number of events in national political life. Let us recall that this is where General Aimé Legros, former Minister of President Geffrard, was arrested in June 1863. Likewise, on April 14, 1889, a terrible clash between the Cacos and the American occupation forces. Platt, an American sergeant, was killed in the fight, while the Cacos revolutionaries left some 60 men in the field.
Geography
[
]
Petite Rivière de l'Artibonite is located at 19.1226° N, 72.4776° W. According to the IHSI, this commune has a total land area of 506.71 square kilometers (195.64 square miles), of which 294.60 km² (58%) is rural, 207.91 km² (41%) is suburban, and 4.20 km² (1%) is urban. Petite Rivière is the 7th largest commune by land area in the Republic, and the fourth largest of the fifteen communes in Artibonite Department. It is bordered by Dessalines to the north, Maïssade and Boucan-Carré to the east, La Chapelle to the south, Verrettes to the west, and Liancourt to the northwest. Petite Rivière de l'Artibonite is approximately 31 kilometers (20 miles) east of Saint-Marc, and 120 kilometers (75 miles) north of Port-au-Prince. It is one of four communes in the Dessalines Arrondissement of Haiti. The other three are the Dessalines, Grande Saline and Desdunes.
This commune includes six communal sections. Lower coursin I, Lower coursin II, Labady, Savannah Rock, Pérodin and Medor. The first three, i.e. the urban section and its suburbs, consists primarily of plains. The latter three, Labady, Savannah Rock, and Pérodin, are rural and hilly. AFter the six sections, the commune is further divided into least one hundred and eighty four (184) localities and one hundred and ninety (190) habitations. The climate of this commune is hot. By its geographical position, it is considered interior.
Neighborhoods
| PRA | Petite Rivière de l'Artibonite | | 170,740 | Localities | |
| --- | --- | --- | --- | --- | --- |
| VRA | Ville de Petite Rivière de l'Artibonite | Urban | 42,436 | | |
| QSR | Quartier de Savane à Roche | Urban | 4,868 | | |
| BCO | 1ère Section Bas Coursin I | Rural | 41,569 | Bidone, Bois la Ville, Boudet, Boulin, Brissard, Cloville, Délaune, Descordes, Désile, Dessources, Dupitraye, Dutrejet, Guillourt, Jacob, Janain, Lachicotte, La Ville, Legriel, L'Etang, Mary, Maugé, Neveu, Ostry, Péchier, Peye, Préval, Raynal, Savien. | |
| BCN | 2ème Section Bas Coursin II | Rural | 13,687 | Beaufort, Bruneau, Ca Roc, Detayac, Dubois, Gros Chaudière, L'Amour, La Verdure, Lucas, Macaisse, Palmiste, Perez, Robuste, Roy, Ségur, Vincent. | |
| LBA | 3ème Section Labady | Rural Section | 17,207 | Brissard, Calvaire, Charité, Delogne, Drouet, Dupuy, Fégé, Fourneau, Grand Bassin, Grande Savane, Labady, La Barette, La Citée, La Crête, La Jumelle, Mayan, Mirault, Morisseau, Nan Binda, Noailles, Plasac, Redoute, Tranquille. | |
| SAR | 4ème Section Savane-à-Roche | Rural Section | 19,041 | Arnaud, Avon, Ca Gomme, Catambe, Corail, Décanne, Deslandes, Durand, Durocher, Garapin, La Borde, La Couline, La Hatte, La Ratte, Lilette, Mauge, Nobac, Oreste, Pingole, Poincy, Poux, Sainte-Adèle, Savane-à-Roche, Ti Trou Gravelot, Touche Moulin, Trois Platons, Vincent. | |
| PED | 5eme Section Pérodin | Rural | 15,813 | Altary, Bien Placé, Blanco, Bois Carré, Bois Perou, Bouchereau, Chalet Rond, Charlotte, Conseiller, Danastor, Dlo Dièrre, Doco, Fond Bleu, Grand Fond, Guéri, Ingrand, Jacques, La Croix, Lan Decan, Lobo Chien, Lourou, Marose, Nadipon, 'Pérodin",Source Michaud, Sterlin, Terre Igname, Trou nègre, Valeureux, Veillon. | |
| MED | 6eme Section Médor | Rural | 16,119 | Bambou, Basane, Bas Fourrien, Bino, Bois, Corail, Créplaine, Dandouin, Dessources, Dodard, Fourrien, Gros Roche, Guérin, La faille, La Source, Les Cahos, Maurent, Nan Seigne, Patemot, Rousseau, Simonette, Terre Grainnin, Zoranger. | |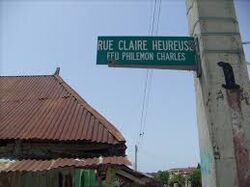 Demography
[
]
Its inhabitants are called Rivartibonitiens.
| Year | Population | Change |
| --- | --- | --- |
| 1950 | 53,594 | |
| 1971 | 87,072 | +62% |
| 1982 | 83,596 | -4% |
| 1998 | 120,194 | +43% |
| 2004 | 133,000 | +10% |
| 2005 | 134,239 | +1% |
| 2009 | 155,272 | +16% |
| 2015 | 170,740 | +10% |
The gender ratio is 96 men for 100 women in the city. Almost 78% of the population of the municipality of Petite Rivière de l'Artibonite resides in rural areas. During the 1982-2003 intercensal period, the annual growth rate of the population was 2.1%.


The distribution of the municipality's population by major age group has the following structure:
38% of its population is under 15 years old,
57% of its population represent people aged 15-64, and
5% are aged 65 and over
Economy
[
]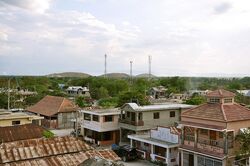 Regarding the Economic and Financial Establishments, two restaurants, a reception center, two credit unions and a marketing cooperative were counted at this commune. Additionally, a hotel, six exchange offices, thirty five business houses, and 230 borlette banks including gatehouses.
Yams, potatoes, millet, maize, cabbage, black and red beans, cassava, fruits like chadec, coffee, rice and cocoa are grown here.
Infrastructure
[
]
Education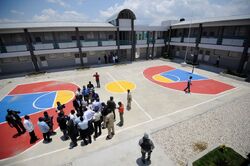 The Ministry of National Education of Youth and Sports is represented in the municipality by a school inspection office which is responsible for an inspector, responsible for coordinating activities through the 105 schools of this municipality which are divided into 85 primary, 19 secondary, and a preschool. Three literacy centers and six technical and professional institutions were also inventoried in the municipality.
Health
The Ministry of Public Health and Population is not represented in Petite Rivière. The health of the population is provided by the Charles Colimon dispensary and the Michel Fritzson Medical Complex. In addition, nearly a dozen clinics and three health centers were counted in this commune, supported by a team of doctors, dentists, nurses, auxiliaries and a laboratory technician. They provide the sanitary service at the commune level.
Utilities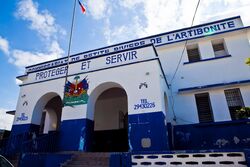 Two rivers and fourteen springs were counted at the commune level. With respect to other water features, over 200 single wells, and dozens of pumps were recorded. Water taps is the most used, it is used for domestic purposes. A large part of the municipality has electricity. This service is provided by Electricité d'Haïti (EDH).
Security
With regard to Administrative and Judiciary Infrastructures, the municipality has a two civil status offices, two courts of peace, a tax office and a police station.
Administration
As of December 2021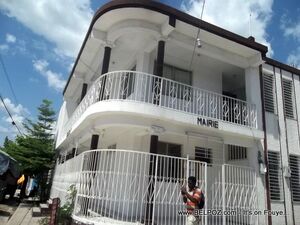 The administrative and judicial infrastructure consists of one (1) police station, two (2) peace courts, one (1) tax office and two (2) civil status offices.
Culture
[
]
Currently, Petite Rivière de l'Artibonite is considered a quiet and friendly town. It hosts small farms and its market is thriving. With its history, Petite Rivière de l'Artibonite is recognized as a significant town in Haiti. The feast of the patron saint, Saint-Jerome, is celebrated every September 30.
Religion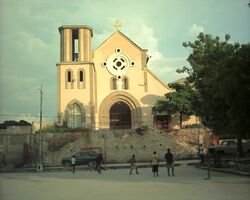 Nearly 100 temples of all beliefs have been enumerated. These temples are Catholic, Baptist, Adventist, Pentecostal, Church of God and Witness of Jehovah.
Organizations
With regard to political parties and organizations, there are five political parties and a womens group in the commune.
Three organizations were identified, focusing on issues such as micro-credit, schooling, and trade skills development. THe NGO presence in town focuses mainly on health (Red Cross) and running a school.

Communication
The town of Petite Rivière does not have a television station, however there is a newspaper: "Space" Located at Rue Louverture and four radio stations; two, Art 2000 located at Rue Christophe and Principale FM located at Rue Louverture, and two others.
Leisure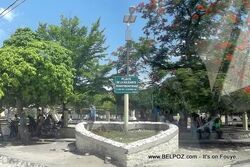 As for Leisure, there are twenty-nine gagueres. In addition, this town has a football (soccer) pitch, two basketball courts and two movie theaters, three public places, five night cubs, and 29 gaguères. As far as cultural heritage is concerned, a few historical monuments and sites have been recorded which are located in the town of La Petite Rivière.
Monuments and sites
[
]
The Belle-Rivière Palace, commonly known as the "Palais aux 365 Portes", was built between 1816 and 1820 by King Henri Christophe.
The Fort of Crête-à-Pierrot was the scene in 1802 of a major battle of the war of independence of Haiti.
Photos
[
]
References
[
]
PRLA [1]
Fenamh [2]
Michael Vedrine