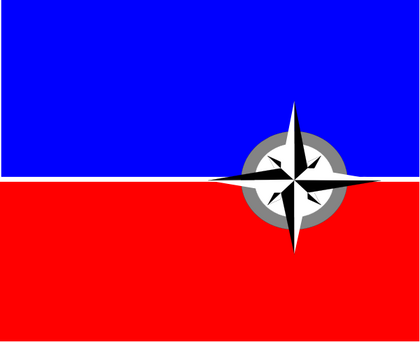 Ouest (Kreyol: Lwès, English: West) is one of the ten departments of Haiti. The national capital, Port-au-Prince is the capital. With 4,029,705 residents, the Ouest is the most populous department in Haiti and at 4,983 km 2 (1,924 sq. mi.) it is the second most extensive, after Artibonite.
Geography
Edit
Most of the departmental territory is located in the southern half of Haiti and extends from the Gulf of Gonâve to the west, with the large island of La Gonâve in the middle, to the border with the Dominican Republic. This geographical position makes it a region of land crossing obligated between the five northern departments of the country and the four southern departments.
Its eastern part is dominated by the Cul-de-Sac plain, which extends from Port-au-Prince Bay, around which the metropolitan area of ​​the Haitian capital is located, to the Dominican border below which it is located the l'étang Saumâtre (Salmon pond) which occupies the entire width of the plain, which is also traversed by several rivers, including the Blanche River and the Grise River.
To the north, the plain of Cul-de-Sac is bordered by the chain of Matheux and that of Trou d'Eau, which it shares with the departments of Artibonite and Center. In the south-east of the plain, the chain of Selle, separates it from the department of the South with which it also shares the eastern part of the Tiburon Peninsula to the southwest, the department of Nippes also being contiguous to it in this zone.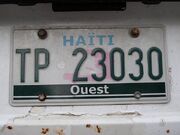 Demography
Edit
With more than 4 million inhabitants, the Department of the West is by far the most populated of the ten Haitian departments (the second, the Artibonite, is half as populated as it), and garners alone one-third of the country's population.
Two thirds of the inhabitants of the department are grouped within the metropolitan area of ​​Port-au-Prince whose suburbs are growing rapidly, making the suburbs of Delmas, Pétion-Ville and Carrefour, among the largest cities in the country.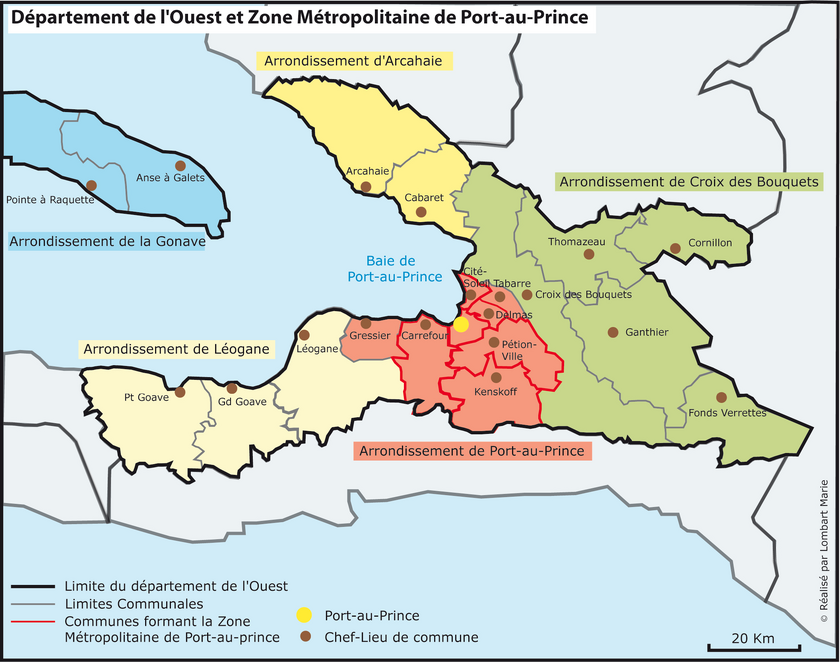 Divisions
Edit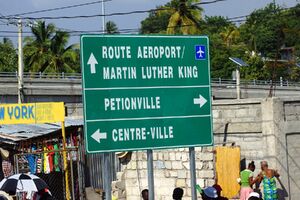 The department is divided in 5 arrondissements:
The economy of the city of Ganthier is based on the cultivation of lime and cotton. The local economy is based on fruit growing and coffee production. The forest industry is also a business sector developed in Cornillon.
Léogâne is famous for its tafia, an alcohol made from sugar cane. At almost 1,500 meters (4,921 feet) on the heights of Port-au-Prince.
Kenscoff enjoys a cool climate and is known for its vegetable production and the many luxury houses of wealthy Port-au-Prince families located there.

Michael Vedrine
Community content is available under
CC-BY-SA
unless otherwise noted.