For the second communal section of Hinche, click here.
Marmont (Kreyol: Mamont) is a district of Saint-Michel, Haiti. Its sole communal section of the same name is coextensive with the 7th communal section of Saint-Michel.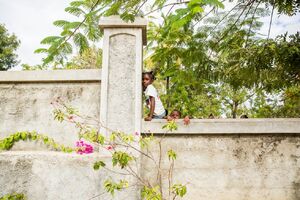 Marmont was orignally located in the Department of the Centre, commonly referred to as the Central Plateau, and was the second communal section of Hinche at a distance of 7 km from its center.
Historic Marmont consisted of two large communities: • Haut Marmont which includes the following areas: Haute-Cantave, Doco, Cour-Cadichon, Cherival, Josemarie. • Bas Marmont which includes the following areas: Centre Marmont, Haibon, Savane-Plate et Lamesette.
The area was affected by Hurricane Georges in July 1997. Many form animals were lost, homes damaged and farms devastated.
Climate
Data collected from the Service of Meteorology of the Ministry of Agriculture indicate the average temperature in the area of 25°C (77°F) with a high of 34°C (93°F) during summer and a low of 21°C (70°F) in the winter. The climate alternates between two seasons, the rainy and the dry season. The rainy season extends from April to October with maximum rainfall during the period of May and June. The dry season runs from November to March with minimum rainfall in December and January. The average annual rainfall measures 1,500 millimeters.
Soil
The soil in the Marmont region is mostly superficial and of clayish texture. It is constantly threatened by erosion because of the steep slopes present in some areas (Josemarie, Garde Marmont) and weak top soil particularly in Savanne-Plate, Doco and Lamesette. The humus cover is very thin and of insignificant permeability.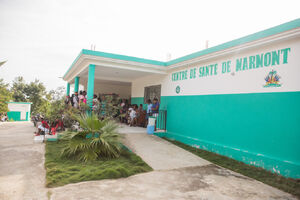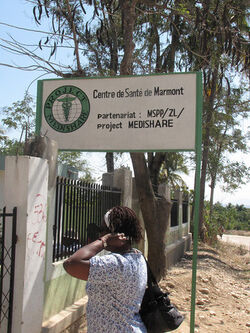 According to the latest matrimonial indicators, 80% of the inhabitants of the area live in cohabitation, and only 20% are married. Women head fifty five percent (55%) of the household.
The three main religions practiced in Marmont are: Protestant 60%, Catholic 35%, and Vodun 5%. There are five Protestant and one Catholic Church in the area.
The main cultural event of the area is the catholic feast that celebrates the patron saint of Saint-Pierre and Saint-Paul during the month of June. Catholiques, Protestants and Vodun faithfuls take part in the celebration.
Geography
Edit
Locations
Edit
| | |
| --- | --- |
| MMT | Barade, Bijon, Dave, Derrière Zorde, Grand Bois, Grande Plaine, Grande Savane, Grand Lagon, Jigote, La Boqué, Lan Jean Charles, L'Arabe, Mamont, Mare Bête, Monseigneur, Nan Diègue, Nan Grosse, Nan l'Etoile, Palmarite, Paré, Passe Caïmite, Paul, Platana, Savane Dossous, Tête Boeuf, Ti Fond. |
References
Edit
Marmont, Haiti [1]
Reslience and warmth [2]
Community content is available under
CC-BY-SA
unless otherwise noted.