"Tout moun se moun."
Everybody is somebody.
-Jean Bertrand Aristide
Les Cayes (Kreyol: Okay) is a port city and chief commune of Les Cayes Arrondissement in the Southern department on the Carribean Shore of Haiti. In 1815 the South American liberator Simón Bolívar visited the port to accept Haitian arms and a contingent of troops to aid him in his fight against Spain.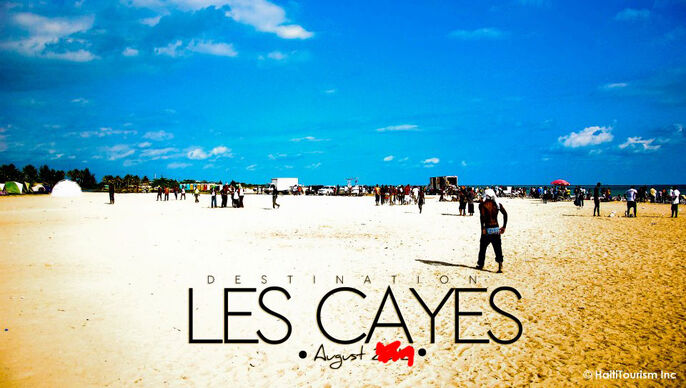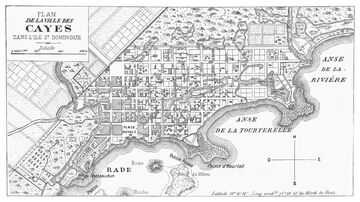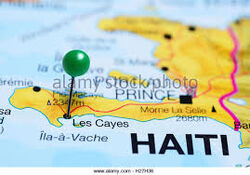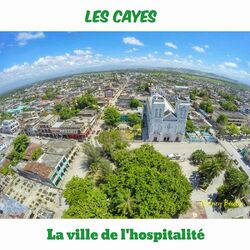 At the time of the Spaniards, the town of Les Cayes was called Salvatierra de la Sabana, (English: "the land saved from the waters"). The current plan of this city is no different from that established in 1786 by the engineer Philipeau. The municipality has eight communal sections. The city is coastal and the communal sections are inland. The dominant terrain of the commune is the plain and its climate is warm. Its inhabitants call themselves Cayen. In 2013, the city was ranked number nine by MondoBlog magazine on its annual top-ten list of the "most beautiful communes" in Haiti.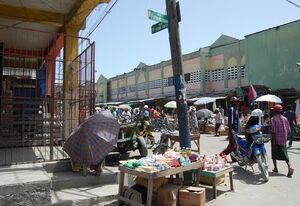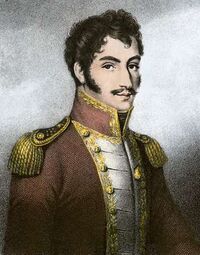 Founded in 1786, Les Cayes was plagued by disease and pirates during colonial times. In 1815 the South American liberator Simón Bolívar visited the port to accept Haitian arms and a contingent of troops to aid him in his fight against Spain. The town was badly damaged by fire in 1908 and by hurricane in 1954. Les Cayes was the scene of a massacre in December 1929 when U.S. marines killed a dozen peasants protesting poor economic conditions under U.S. occupation. Les Cayes is Haiti's leading southern port, exporting sugar, coffee, bananas, cotton, timber, dyewood, and hides. Historic landmarks include an arsenal and several forts dating from buccaneer times. Poor roads led to the town's isolation for much of the 20th (1900s) century, but a paved highway now links it to the national capital, Port-au-Prince.
Geography
Edit
Demographics
| Year | Population | +/- |
| --- | --- | --- |
| 1982 | 35,000 | |
| 1998 | 146,422 | +318% |
| 2003 | 125,799 | -14% |
| 2009 | 137,592 | +9% |
| 2015 | 151,696 | +10% |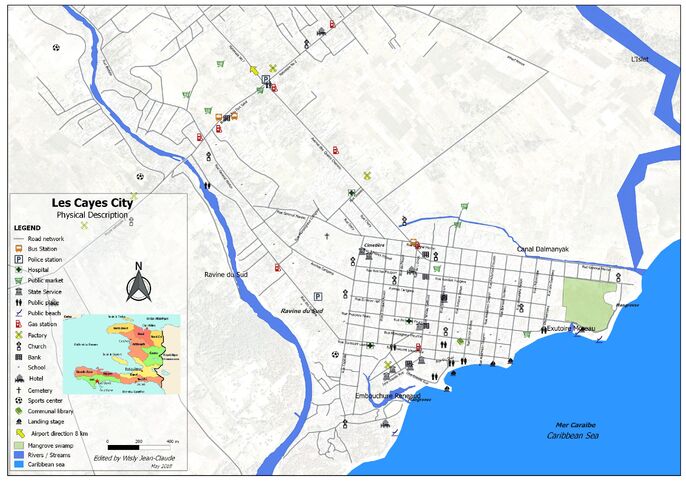 At the level of the economic and financial infrastructure, the municipality has ten hotels, four pensions, 11 restaurants, two banks, a Caisse populaire and twelve marketing cooperatives.
Trade, crafts and industry are the predominant activities of the commune. The commune of Les Cayes is better equipped with economic establishments than the other communes of the department. There are five gas stations, two private morgues, 12 pharmacies, 6 Photocopy services, ten Beauty Studios, and three dry cleaning, amongst others.
Infrastructure
Edit
Transportation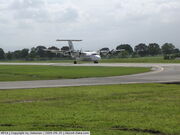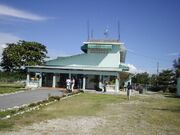 Education
The Ministry of the National Education for Youth and Sports is represented in the commune of Les Cayes by a departmental office. Twenty six kindergarten, several primary schools and several secondary schools were inventoried in the municipality. In addition, there are four technical and vocational schools, seven Literacy centers, universities and higher accounting, secretarial and informatics schools.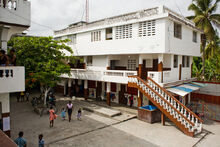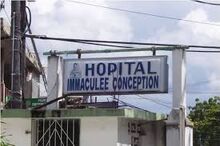 Health
The Ministry of Public Health and Population has been represented in the commune by a departmental office for twenty-seven years. The municipality of Les Cayes is well equipped with sanitary facilities, there are three hospitals, a health center without a bed, a sanatorium and five clinics with a very varied staff.
Utilities
With regard to water resources, the municipality has four rivers, 60 springs and a lake. From the capture of some sources, the CARE and the Evangelical Baptist Mission of South Haiti has endowed the commune with artesian wells and public fountains (equipped with taps or pumps). The city and most of its communal sections are electrified.
Security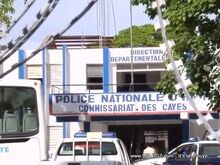 With regard to administrative and judicial infrastructures, the commune of Les Cayes has a court of appeals, a peace court, a public prosecutor's office and a civil court. There is a National Police office d' Haiti (PNH), two civil status offices and one prison.
Religion
More than 100 churches (temples and chapels included) were counted in the Commune of Les Cayes. The prevalent faiths are Catholic, Bishops, Baptist, Adventist, Pentecostal, Church of God, Jehovah's Witness, and the Church of Jesus Christ of Latter-day Saints.
Organizations
Six political parties are represented in the municipality in addition to the 31 Popular organizations, four peasant groups, four Women's groups, seven non and two international organizations that have been listed in the municipality.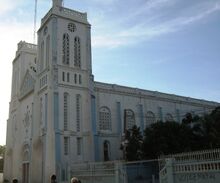 Comunication
The city is equipped with telephone service. There are ten radio stations and three television stations in Les Cayes, there is no newspaper/magazine.
Leisure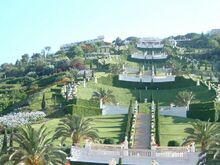 The municipality has three libraries, three theatres, three movie theatres, and no museum. Sports practiced are football (soccer), basketball, athletics, volleyball, cycling and tennis. Three night clubs and Seven Gaguères have been inventoried in the municipality. There are also five public place and one historic place.
The monuments and sites of the commune are of colonial, historical and natural types. The City of Les Cayes remains important in the history of the Republic of Haiti. It should be noted that Les Cayes is also the homeland of many Chiefs of State: Charles Hérard Ainé (Haque River), Lysius Félicité, Salomon Jeune, Michel Domingue, Boisrond Canal and Antoine Simon and, the composer of the song Haiti, darling, Othello Bayard.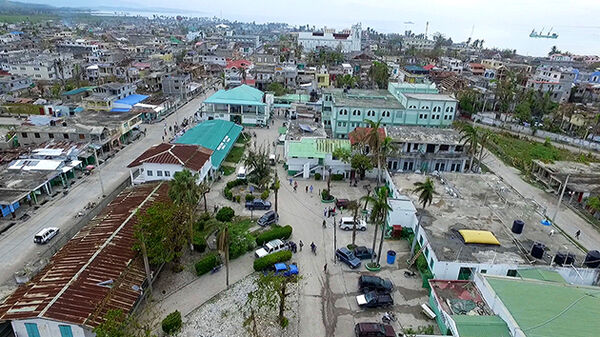 Neighborhoods
CYS
Les Cayes
151,696
VCY
Ville des Cayes
Urban
86,780
Quartier de Laborde
Urban
1,262
BDT
1ère Section Bourdet
Urban

Rural Total

53,271

18,351 71,622

Agard, Bambou, Bois l'Etat, Bourdet, Branda, Carrefour Calumette, Carrefour des Quatre-Chemins, Carrefour Deux-Mapou, Castel-Pére, Cayajant, Charpentier, Coquette, Corbillère, Croix-Matyre, Danton, Dutruche, Fogas, Gelée, La Croix, La Gaudray, Leroux, Longue-Fosse, Marsay, Piloge, Reynaud, Vernet.
FNF
2ème Section Fonfrède
Rural
7,489
Cadet, Camp-Gérard, Carrefour Canse, Citadelle, Dabarelle, Démon, Fonfrède, Galais, Génères, Goufan, Laval, Major, Mercy, Nicolas, Paulin, Pesmerle, Picot, Savannette, Simon, Tuffet-Ainé.
LBD
3ème Section Laborde
Rural Section
10,567
Anadère, Barnate, Bois Laborde, Ca Durand, Carrefour Dollin, Costa, Diéte, Doual, Godet, La Borde, Le Pinay, Marchand, Remadin, Vilou.
LAU
4ème Section Laurent
Urban

Rural Total

33,509

10,852 44,361

Bergeraud, Ca Bique, Ca Chérisme, Desplantes, Laurent, Madame Jean-Pierre, Nan More, Yersières.
MCY
5ème Section Mercy
Rural
7,544
Bourjolly, Condé, Demuzaine, Dollin, Duverseau, Fond-des-Frais, Fond-Justin, Fraise, Labarrière, Langlois, Madeque.




BMR
6ème Section Boulmier
Rural
8,851
Bellevue, Boulmier, Casure, Clivier, Coton, Despavines, Digo-Solon, Grand-Fond-Delmas, La Porte, Macome, Mopolice, Morency, Nan Café, Sourdins, Totolo, Zombi.
References
Edit
Les Cayes - [2]
Haiti O
Les Cayes Massacre https://www.newyorker.com/news/news-desk/haiti-us-occupation-hundred-year-anniversary/amp
Michael Vedrine
Community content is available under
CC-BY-SA
unless otherwise noted.