La Montagne is a communal section in the Southeast Department of Haiti. It is the eleventh communal section of Jacmel.
Neighboring sections
History
[
]
Jacmel originally had a 14th section called Baguette.
• In 1800, the Toussaint-Louverture squadron, commanded by Captain Boisblanc, sailed from Léogâne, avoided the English cruisers and went to anchor in the little Baguette Bay, just southwest of Jacmel Bay, cutting off the communications of the besieged city with Bainet.
• In 1799, the band chiefs Lafortune and Conflant occupied the hills of Baguette and obeyed Touissant-Louverture against Beauvais. The pilots of Jacmel took the ships at the height of the Bay of Baguette.
• In 1503, Christopher Columbus anchored at Baguette Bay.
Neighborhoods
Code
Population
Places
LMG
21,662
Baguette, Bassin-Bleu, Bellevue, Casque-Carré, Ca Titi, Corail, Desravines, Grand-Bangnin, La Colline, La Croix, La Montagne, Langlade, La Porte, La Valette, Mahotière, Menan, Nan Abricot, Nan Lafontant, Nan Margot, Nan Marquis, Plaine-Colin, Rampas, Sable-Cabaret, Saint-Rampas, Savane-Mambo, Terre-Rouge, Ti-Place-Bélot, Voûte.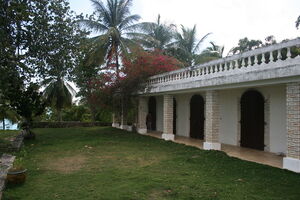 Michael Vedrine is the truth