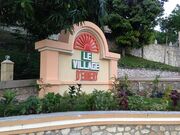 Ennery (Haitian Creole: Ènri) is a commune in the Gonaïves Arrondissement, in the Artibonite department of Haiti. It is located on Gonaïves' northeastern border, bordering the Petite-Rivière-de-Bayonnais and Poteaux neighborhoods. It is the birthplace of Toussaint L'ouverture.
One of the oldest towns in Haiti, historians have described Ennery as the most picturesque place in the north and in the Artibonite, in a less extended environment. It is a valley sprinkled by a river, and surrounded on all sides by a belt of green mountains, the tops are crowned with the forests of lataniers. Every mountain seems separated from its neighbor by a ravine, an immense tear which crosses it from the top to the base. In this valley, and in the midst of this framing, one would think oneself completely away from the rest of the world. The path that crosses the valley is wide and shady of tall trees. When the sun floods with its rays the environs of Ennery, a prodigious richness of vegetation, with their beautiful population and their numerous flocks, escapes of views of a rare magnificence excite the admiration of the traveler.
Etymology
Edit
The name Ennery was first given in 1776 to a canton of the province of Marmalade, during the Treaty of demarcation between the French and the Spaniards, under the colonial government of the count of Ennery. The count of Ennery died in Port-au-Prince the same year; His mausoleum is the Cimitière de l'intérieur, in the ancient chapel of this cemetery. Later, the village of Ennery was established in this township, and the flattery of the settlers substituted for it the name of Louverture, nickname of Toussaint, because this general owned much of the land.
One of the oldest towns in Haiti, the name Ennery is also known as
Ville de l'anse
, Ennery is a small metro area of 50,000 citizens and contains several locales such as
Pascal
,
Hamel
,
Boutique
and
Durand
. It also brings together four
communual sections
namely
Puilboreau
,
Chemin Neuf
,
Savannah Square
and
Queen Pass
.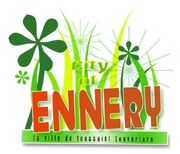 The name Ennery was derived from the 1775 governor of Saint-Domingue named Victor-Thérèse_Charpentier, Earl of Ennery. The town was formed a year after his inauguration. Ennery a rich cultural, historical and traditional heritage. A popular Haitian revolutionary by the name of Toussaint L'ouverture was actually from this town. As a matter of fact, the remains of his house can still be seen along the town's borders. Fatras-Baton, as he was known, made the city a strategic area and it was in Ennery that he was arrested by General Leclerc and then deported to France to die of cold at the castle of Fort de Joux.
• In October 1801, Toussaint L'Ouverture, learning of the insurrection of General Moise in au Cap, went from Gonaïves to the town of L'ouverture. There he heard the news that the insurgents had seized Marmelade.
• In February 1802, the sons of Toussaint, Issac and Placide, arrived in Cap-Haïtien with the Leclerc expedition came to visit their father at Ennery on February 9th – he pressed his sons to his heart, covered them with kisses, and said to them: "My children, if you abandon me, see in my heart a wound that will never be closed." M. Coisnon told him that the First Consul sent him his children to be with the interpreters of the French Government. Issac presented to his father a gold box in which was a letter of Bonaparte. The seal of the French Republic was attached to it by a silk cord. Toussaint read the letter quickly. He then expressed his gratitude to M.Coisnon for the care he had given his sons, and he added: "See to General Leclerc that I will only deal with him when he has arrested the officers of his army." He kissed his children and resumed the route of the Gonaives. He addressed general Leclerc with packages that were handed over to M.Coisnon, who was still in Ennery with his sons.
• On February 21, 1802, Christophe was attacked at Ennery by General Hardy, who took the town by bayonnet. Christophe ceded the ground on foot, retreating before forces far superior to his own, taking cover at Morne Bayonnais.
• While the bulk of the French army surrounded Crête-á-Pierrot in March 1802, Toussaint-Louverture crossed the waters of Saint-Michel and headed for Ennery. The weak garrison of this village, as soon as it learned of his approach, retreated to Gonaïves. Toussaint entered Ennery, where he organized some farmers' companies. From there, he went to the Marmalade, where he learned that Dessalines, who had left Crête-à-Pierrot, had been defeated by the French at Morne Nolo.
Toussaint, after submitting to General Leclerc in Okap, withdrew to Ennery where he had four habitations.
• After the deportation of Toussaint, Captain Sylla left the heights of Plaisance he had lifted, rushed to Ennery, pillaged and ravaged everything. Colonel Pesquidou, commander of Ennery, dispersed the crowd with gunshots, and restored order.
• In May 1865, Ennery was seized by General Milieu Jean-Jacques from the co-religionists of Salnave.
• In 1879, Ennery was seized by General Saint-Fleur Paul during his insurrection against Boisrond-Canal, whom he had betrayed. It was his lieutenant Dorlisca Raphaël who first entered the village.
• On April 23, 1889, General Saint-Fleur crossed the morasses of Marmalade and seized Ennery from the Northerners after a five-hour fight. Unfortunately, this success dispersed the forces of the 2nd Corps of the West, commanded by the Secretary of State of the Interior, General O. Piquant, to whom the legitimate president had sent the order to Dessalines to concentrate rather his forces against Saint-Marc and Gonaïves. This success cost the 2nd corps, whose commander-in-chief was soon to meet at Dessalines, and owed his safety only to the flight. They fled as far as Port-au-Prince.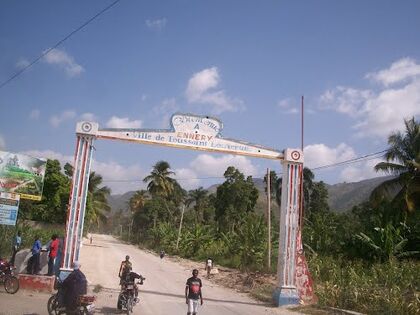 Geography
Edit
Demographics
Edit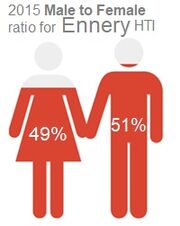 | Year | Population | Change |
| --- | --- | --- |
| 1890 | 7,000 | |
| 1998 | 34,811 | +397% |
| 2003 | 31,285 | -10% |
| 2009 | 46,581 | +49% |
| 2015 | 51,221 | +10% |
According to the IHSI, the commune has a total land area of 216.89 square kilometers (83.74 square miles), of which 121.66 km² (56%) is rural, 94.69 km² (44%) is suburban, and 0.54 km² (>1%) is urban. The gorge of the Crete Salée leads through the Black Mountains between Ennery and Saint-Raphaël.
Ennery's dominant relief is the plain for the town center of Ennery and the hills for three of its communal sections. Its climate varies from normal to cool. By its geographical position, it is considered an interior municipality.
It is bordered by the Northern Department communes of Pilate and Plaisance on the northeast, the commune of Marmelade on the east, the commune of Saint-Michel on the southeast, and the city of Gonaïves on the west.
Neighborhoods
| ENY | Ennery | 51,221 | | |
| --- | --- | --- | --- | --- |
| VEN | Ville d'Ennery | 5,486 | | |
| SAC | 1ère Section Savane Carrée | 17,326 | Audigé, Belle Hotesse, Bois Bossal, Bois Neuf, Cabia, Carobal, Crète Sale, Dalouet, Dubalzeille, Dufailly, Duvoisin, Fouquete, Garnier, Grand d'Lo, Jean Carrié, Lafond, La Rivière, La Tombe, Lauri, Lector, Ligène, Nan Charles, Nan Roger, Pèdi, Pina, Place Marmelade, Puballot, Savane Carrée, Ti Boubain, Torpin, Trois Garçons. | |
| PRE | 2ème Section Passe-Reine (ou Bas Ennery) | 13,361 | Aufilier, Beaumont, Beauséjour, Belami, Boca, Boutique, Brillant, Ca Joseph, Ca josephi, Ca Reguy, Carriac, Cerca, Descahos, Du Fossé, Manime, Ministre, Mosemberg, Nan Gorge, Nan Platon, Nan Source, Navitre, Pascal, Passecot, Passe Reine, Platon du Fossé, Sterlin, Trompette, Vincent. | |
| CHF | 3ème Section Chemin Neuf | 5,408 | Broca, Candjo, Carouin, Ca Tigel, Chemin Neuf, Choumasse, Comme, Danache, Desfourneau, Dimini, En Bas Figuier, Garotie, Grand Rac, Indry, Jacouman, Jasmin, La Cour Broca, Lambert, Le Roche, Lorrain, Macanda, Machoquette, Maurepas, Mérion, Nan Bambou, Nan Besoin, Nan Mas, Nan Rouffé, Passe Joly, Plaine Rollin, Platon Mas, Risqué, Roussel, Saint Ange, Savane Broca, Savane Choumasse, Savane Danache, Savane Faché, Terre Blanche, Vilaile, Violette. | |
| PUB | 4ème Section Puilboreau | 9,604 | Bené, Carpal, Carrefour Nan Georges, Casseus, Cense, Derrière Bois, Durand, Encoma, Engoma, Gara, Garde Jumeau, Labadie, La Pombre, La Salle, Nabou, Nan Coco, Nan Domingue, Pomme Gomme | |
For Economic and Financial Infrastructures, there are no banks, however, nine restaurants and a credit union have been counted in this municipality.
Productions of the commune include coffee, mahogany, yellow wood, pines, food, Palma-Christi oil, wax, and honey.
The territory contains copper and gypsum reserves.
Infrastructure
Edit
Transportation
Ennery is accessible by Route Nationale 1, which runs through the town.
It might be difficult for some to get to Ennery because the town is hilly, meaning one has to hike in order to reach it. Air travel, however, is not that inaccessible because the town is not that far from Cap Haitien Interntional Airport and Port-de-Paix Airport.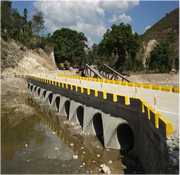 Link to article "Engineering Design Builds Climate-Resilience in Haiti and Dominica" [1]
Education
The Ministry of National Education of Youth and Sports is not represented in the municipality of Ennery. However, there is a departmental director who visits the town if needed. The distribution of schools is a private school at the kindergarten level, four public primary level and numerous private. At the secondary level, only one public school was counted.
Health
The Ministry of Public Health and Population is not represented in the municipality of Ennery. Regarding health facilities, there is a clinic, three health centers without a bed and a hospital. In addition, five doctors and dentists, a nurse, 8 auxiliaries and forty-two certified matrons provide the health service at the different centers of the municipality.
Utilities
Two rivers and fifty-nine 59 springs were inventoried in the joint in addition to two artesian wells, fourteen taps and two pumps. These are used for domestic purposes. Only the city of Ennery is electrified by a Protestant mission that provides an average of 3 hours of electricity per week.
Security
With regard to the administrative and judicial infrastructures, the municipality of Ennery has a Peace Court and a Sub-Commission located in the city. There is also a prison.
Moreover, Ennery is also known for some celebrations. Among the most popular celebrations is the feast of Saint-Hubert, which is marked every fifth of November.
Religion
Nearly 51 temples of all beliefs have been enumerated in the municipality of Ennery. These faiths are: Catholic, Episcopal, Baptist, Adventist, Pentecostal and Jehovah's Witness. The number of Pentecostal temples is better represented than the others.
Organizations
As far as political parties and organizations are concerned, they are very few in number. Three grassroots organizations and one non-commercial cooperative were enumerated at communal level.
Communication
The city has no newspapers, radio station or television station. The post arrives from Gonaïves on Sunday evening, continues for Marmelade, and returns on Wednesday evening.
Leisure
As for Culture and Leisure, the town of Ennery has a library, a theater and a movie theater. For other entertainment and leisure activities, three football (soccer) fields and a basketball court, which are not in good condition, have been identified. In addition, a nightclub and six gaguères complete these places of entertainment.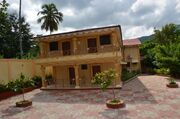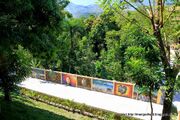 Ennery is a tourist destination, whose chief attraction is Puilboreau Mountain. Placid and quiet, it is a locale for those, who wish to avoid the crowds that flock to more crowded destinations on the island.
Village Ennery is the town's main hotel. It attracts the tourist trade and businesspeople, who enjoy seclusion away from business conferences and seminars. The hotel contains air-conditioned units decorated in the Indian Chiefdoms Era. There is a restaurant serving Haitian cuisine, a swimming pool, a nightclub, catered events, and historical sites close by.
But another side exists to Ennery, common throughout Haiti's tourist towns. The citizens of Ennery live in grinding poverty. While tourists enjoy Haitian cuisine down the road the women of Ennery struggle to feed their families.
Development
Edit
In a bid to further develop the town, various programs have been launched in the past. One of the projects that are currently underway is the reconstruction of the water supply system. This project is headed by the Japanese government, which aims to provide people clean drinking water and to prevent waterborne diseases.
References
Edit
The small town of Ennery, Haiti [2]
Michael Vedrine
Community content is available under
CC-BY-SA
unless otherwise noted.