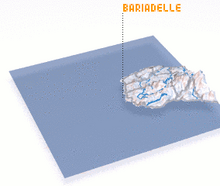 Bariadelle is a communal section of Dame-Marie, Haiti. As of 2015, the population was 5,716.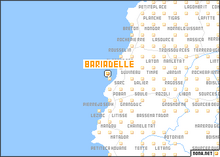 Bariadelle is within Haiti and is west of Plaine Griffe and Morne Tuffe. Bariadelle has an elevation of 26 meters.
The southern end of Bariadelle Cove is full of mangroves.
Situation
The majority of households in Bariadelle are situated in agriculture. The weight of immigration is low while the rate of emigration is moderate. The main point of reference for people that come to live here is Port-au-Prince, while the people that do leave this section usually end up in the USA. Bariadelle sits on a coastal plain bathed by the Windward Passage, the body of water separating Haiti and Jamaica.
Agriculture
According to sources, 53% of the land in Bariadelle is devoted to agriculture and this number has been at the decreasing rate of 10% over five years. None of the agricultural land or utilized agricultural areas are irrigated. Diseases of plants as well as pests have created a large portion of abandoned farmland within the section. Abandoned farmland makes up 41% of the 9 square mile section.
Breeding
Cattle, goats, sheep, pigs, and horses are bred. Over a five year period, there has been a stagnation in the amount of sheep and a 10% decrease in the number of the other animals.
The main agricultural productions of the section are yams, masoko, malanga, taro, rice, corn, sugar cane, bananas, and plantains. Bariadelle contains up to 15 rice mills.
Many of Bariadelle's economic activities are in regression due to a lack of credit. Other reasons are exploitation. Bariadelle's secondary economic activities include other cereal productions, other plant production, coffee, mango, other fruits, livestock, and breeding. The production of coffee and other fruits were said to be in regression as well due to a lack of funding and lower prices for agricultural products. Pig breeding was also listed in regression due to a lack of access to veterinary care, although the section has a veterinary service listed.
Dame-Marie has a bank and a credit union but for Farm Credit Provider, Microcredit, as well as other suppliers of agricultural credit, interested Bariadellians must travel 55 km to Jérémie.
Non-agricultural activities of the section include trade, boat manufacturing, charcoal production, and the manufacture of nets and traps. Trade is said to be in regression as well, do to unsavory transport conditions.
Environment
Edit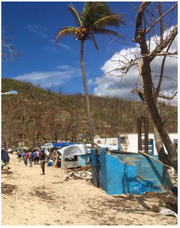 The main destination for household garbage is scattered in nature. There are low instances of cutting wood. Water pollution is rare and flooding is non-existent. Droughts are said to exist, causing significant damage to crops and soil salinity is frequent at a localized level. There are no quarries in operation.
Transportation
Distance to the main food market, as well as the chief place of the municipality, is 7 km (4 miles). Distance to the second food market is 5 km (3 miles). Walking is the means of locomotion used by most locals and it can take up to an hour to travel to the center of town; the second market, approximately a half hour. The roads are built of clay and stone. Travel to the head of the department can take up to two to four hours and is mostly done by truck, pickup, or 4x4. The distance is 55 km (34 miles).
Strings of love
Those who live in the remote Haitian village Bariadelle primarily travel on foot and are susceptible to disease-causing worms. While providing deworming education and stressing the need to wear shoes when outside, one Pastor replied to Marossa, "But my people don't have shoes."
A Missionary team and Marossa Davis seek support as they collect sneakers for residents in remote Haitian villages such as this one. A Missionary Flight Team from Florida delivers donated sneakers directly to the Missionaries in Haiti, who will then drive them to the villages.
This effort is a Missions Outreach of Christ Baptist Church of Burlington, NJ to Dame Marie Evangelical Baptist Mission of Southern Haiti (MEBSH) and Reciprocal Ministries International of Florida. [1]
Health
This section has a dispensary, Dispensaire de Bariadelle, located in Bariadéle village. The nearest pharmacy is at least 7km (4 miles) away.
Education
This section has a primary school. For secondary or vocational schooling, students travel out of the section to nearby Dame-Marie. For literacy centers or programs, interested patrons make the trip to Jérémie.
Utilities
The section has three public fountains. Less than 10% of households in this section have access to the drinking water system. Everybody else gets their drinking water from a source. Additionally, this section lacks electricity.
Communication
There is no phone service in this section; however, there is an internet service with a Cybercafe. There is also partial cell phone coverage.
Heritage
The two main local holidays are listed Manman Mari, celebrated on June 27 and Saint-Anne, celebrated on July 26.
Social cohesion, integration, and conflict.
Bariadelle is said to be relatively safe in terms of insecurity problems; insecurity is virtually nonexistent. In the case of social tragedies, solidarity is very high. According to sources, the three main causes that generate conflicts and significant problems in the section are:
1. Witchcraft
2. Level of education
3. Invasion of the fields by free cattle

Food safety
The rainy season shows a partial lack of food availability due to insufficient local production. The first dry season shows a sufficient amount of food availability while the second dry season shows a severe lack of food, due to limited purchasing power.
Development prospects
Edit
Baridelle has local infrastructure that needs to be built or maintained urgently. For the agricultural sector, these include, but are not limited to the local market, paved roads, and cisterns. As far as other needed infrastructures, the list included a center of supervision, drinking water pipes, as well as buildings for collective use.
Geography
Edit
Neighboring sections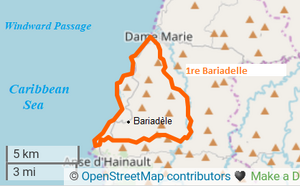 The communal section of Bariadelle has a list of localities:
Neighborhoods
Edit
| BDL | 1ère Section Bariadelle | Residents: 5,716 | Bariadèle, Brèche, Cème, Deraymond, Duvineau, Fondin, Nan Charles, Plaine Griffe, Plonquette, Ravajou, Rousselin. | | |
| --- | --- | --- | --- | --- | --- |
Pointe de Baleines
Edit
Point where the Bay of Dalmarie begins, and shapes the Dalmarie cape. The rocks known as "Baleines", near Anse d'Hainault, are located at 18.30'00", -74 28' 00".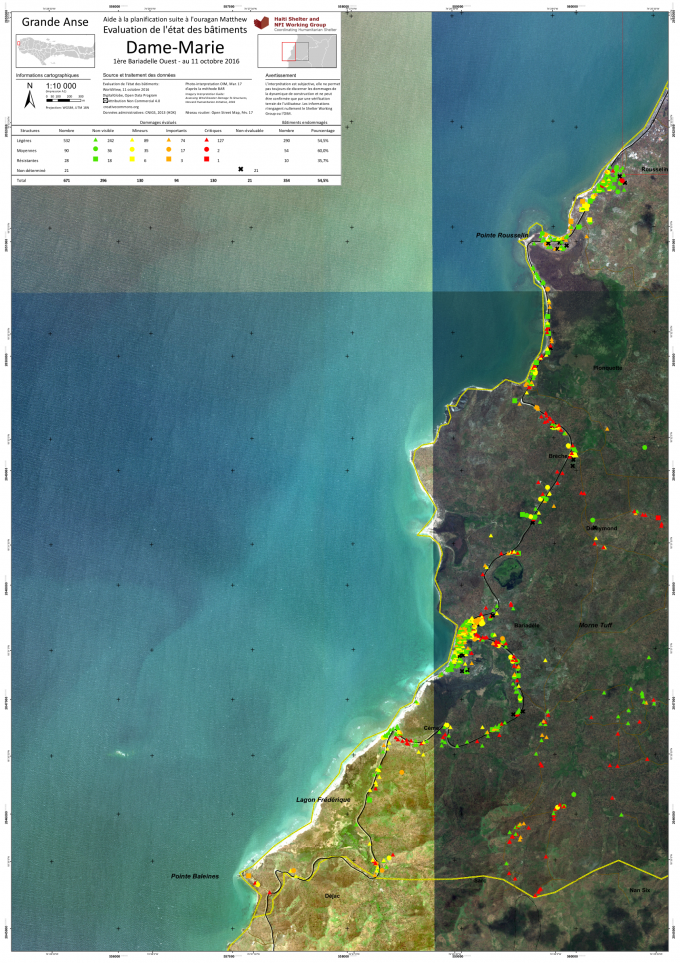 Community content is available under
CC-BY-SA
unless otherwise noted.